Smartwatch sales have exploded over the past few years thanks to the Apple Watch. But for some people, the idea of having an all-singing, all-dancing gadget on their wrist pinging at them all day, acting like a mini smartphone on the wrist, is their idea of a living nightmare.
So what if you approach the smart, wearable differently? What if you could have a watch that looks and acts like a mechanical watch but still has all the fitness and health tracking abilities of a smartwatch and is backed by a health-focused platform designed to help you get healthier and not just close your activity rings?
That's exactly where Withings comes in. With its latest ScanWatch – the ScanWatch 2 – it has delivered a fresh take on its concept of offering detailed, useful fitness and health data but in a watch that looks and acts like a watch should.
Withings ScanWatch 2
The ScanWatch 2 is like a digital detox. It marries strong fitness and overall health tracking and insights with a classic, analogue watch design to give you the best of both worlds. It's a minimalist masterpiece.
Pros
No distractions, minimalist analogue watch face
Advanced health-tracking metrics
Supports Android and iPhone
Withings app/hub is very holistic
Beautiful, simple and durable design
Cons
HR sensor struggles in high-intensity activity
Sleep tracking not always accurate/reliable
No built-in GPS
Price, availability and specs
The ScanWatch 2 from Withings is available buy now in two sizes: 38mm and 42mm. They both start at $349 in the US at the time of writing and £319 in the UK.
Withings ScanWatch 2
Notification Support

Yes

Battery Life

Up to 30 days

Onboard GPS

No (uses phone connection)

Lens Material

Sapphire glass

Case Material

Stainless steel

Case size

38mm or 42mm

Display

0.63-inch grayscale OLED

Connectivity

Bluetooth Low Energy

Health sensors

24/7 temperature, Heart-rate, ECG, SpO2, Altimeter, Accelerometer

Water resistance

5ATM – 50 metres
Rise of the anti-smartwatch
There's a growing interest in minimalist tech online, with consumers looking to keep the benefits of modern technology but in a way that helps them feel that they are the ones in charge and not the tech. It's the sort of niche in the market where the ScanWatch 2 is designed to thrive, just like the ScanWatch Horizon before it.
Looking at it from the outside, worn on the wrist, you'd be hard-pressed to find any evidence that it's any kind of smartwatch. The stainless steel case is styled in a way that looks like a regular watch, and it features physical watch hands mounted above a real watch face, complete with glow-in-the-dark accents to help you see the time at night.
Not even the index and watch face are digital. They're fixed, in place, like any traditional watch. If you want a different colour or any form of choice over style, your only option is to buy the colour and size combination you like.
For the larger wrists, the 42mm model only comes in black or white, but you do get several strap styles, colour and materials to choose from to get your desired look. That could be leather, metal link or fluoroelastomer. If you get the smaller 38mm model, you get the choice of black, white, dark blue or beige, and those last two come with gold-coloured stainless steel on the casing.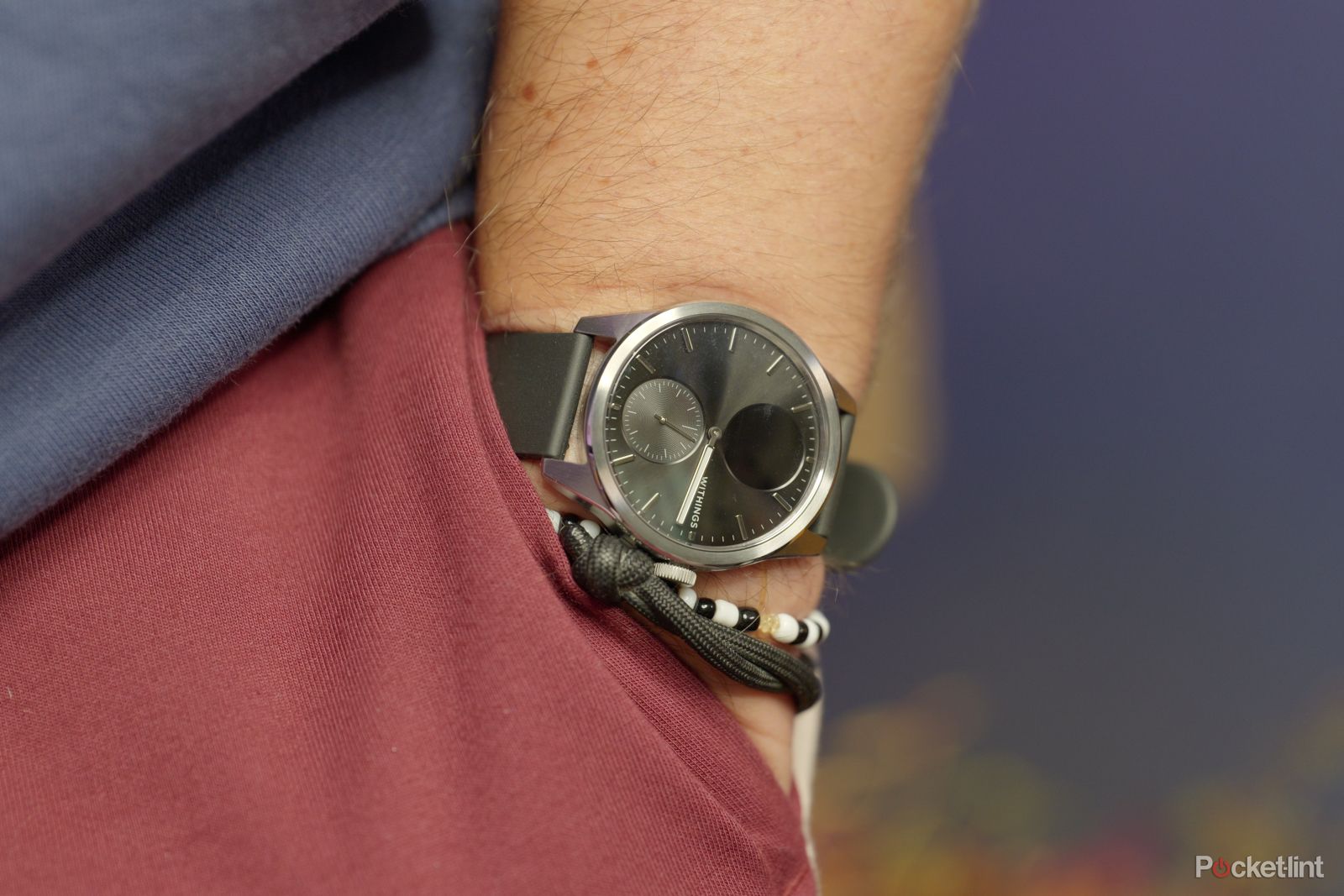 As smartwatches go – at least – the two sizes seem small and lightweight. Especially if – like me – you're more accustomed to wearing wristwear with a 44-45mm diameter. It's a good size, though, and, for me at least, fits just in that 'not too big not too small' bracket. It's also lightweight and very easy to wear for days and nights at a time. I didn't once feel uncomfortable at night or feel the need to remove it (except to charge and to shower).
There's only one physical button, and – just like a normal watch – this looks and acts more like a crown, except that it's not used for adjusting the time manually (that part is managed digitally and automatically by your smartphone). The crown is there to control the user interface, and this is where you get the first sense that you're looking at a smartwatch of some description.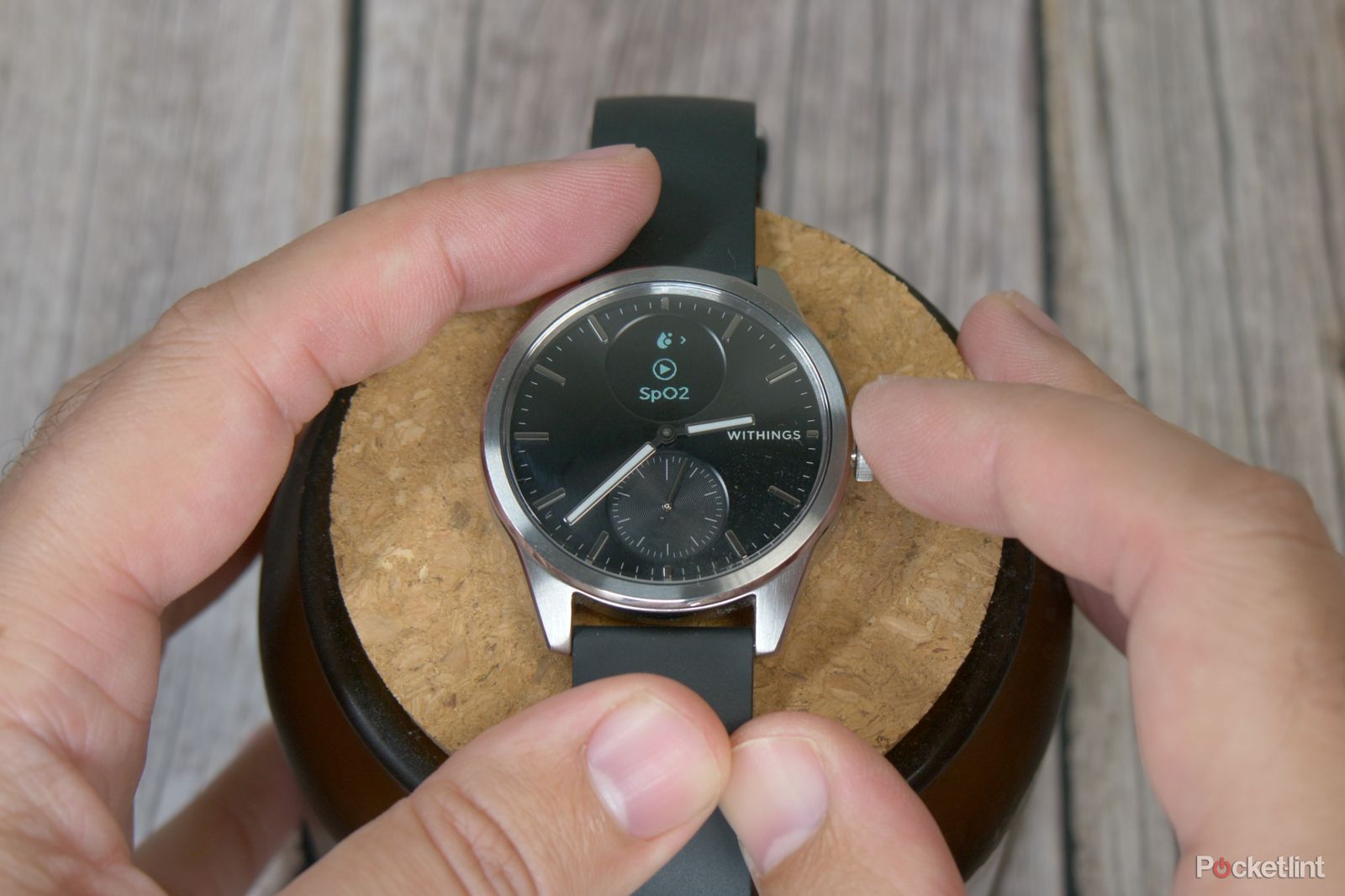 Just above the centre of the watch face, there's a small circular monochrome display. It lights up when the crown is pressed, and you can then use it to start workout activities manually, start an ECG reading, begin a breathing session or look through the basic settings options. You can also use it to check on any health indicators like your heart rate, your body temperature, step count, and distance walked/run.
That's about all there is to it. It's a very basic screen with a basic interface, making it both simple to use and easy to pretend it's not there.
You'll find further evidence of this being a piece of tech on the underside where the health sensors live. This is where you'll find the green and red LEDs for shining light into your skin and the sensors designed to receive the vital signs for the watch to translate and digest into readable information.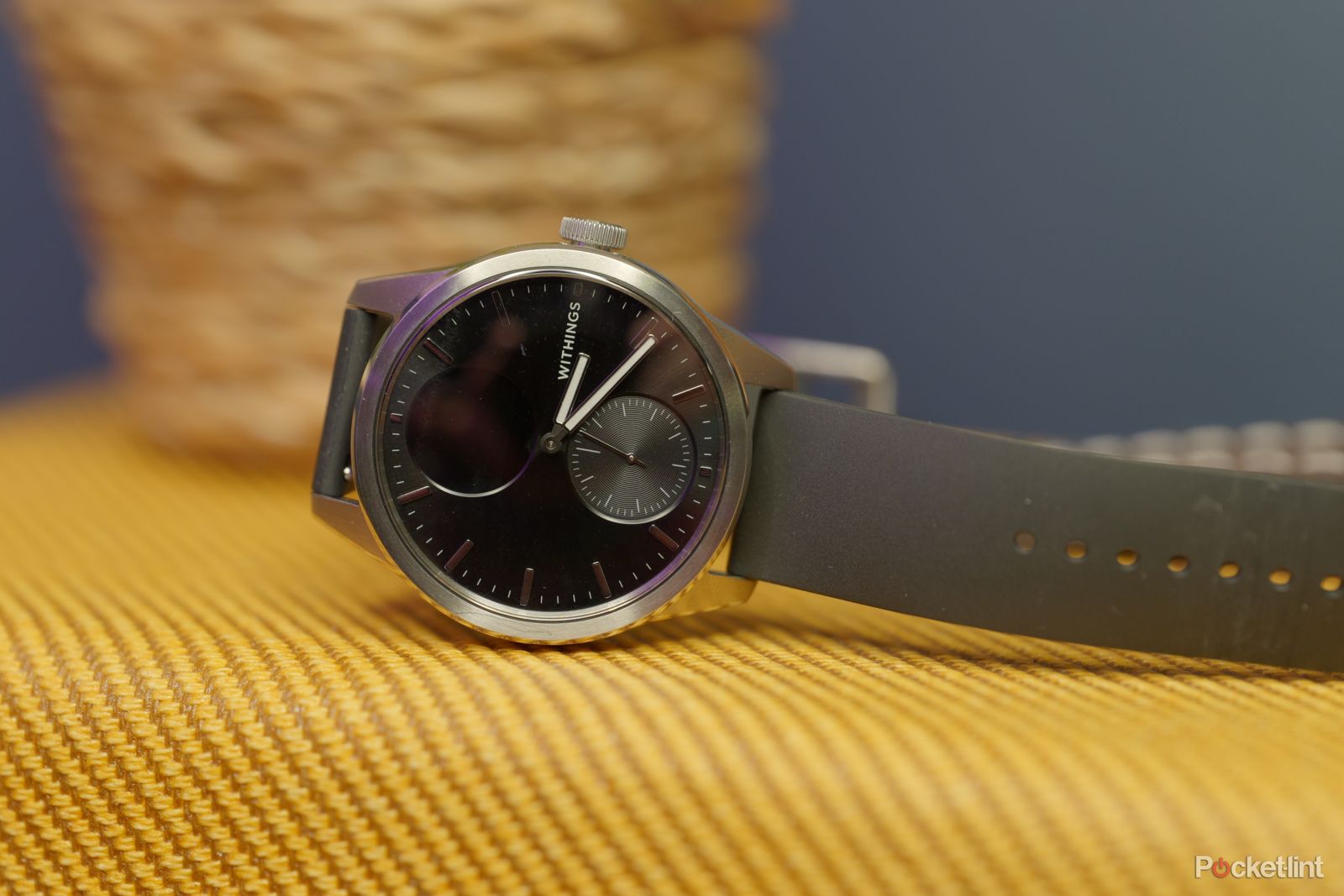 To top it all off, the watch is also water-resistant to high levels, rated up to 5ATM or 50 metres, making it suitable for wearing in fresh water, swimming and any workout where it might get into contact with moisture, whether that be sweat or a sudden downpour.
Fitness and activity
There is one important thing to know for anyone seriously considering buying a ScanWatch 2 as a fitness and health-tracking tool: it doesn't have its own GPS built in. It's a little inconvenient, but – for me – I don't think it's necessarily a deal-breaker. It means having to carry your phone with you, which you would likely want to do anyway if you like listening to music while you run.
In my case, all my running shorts have phone pockets built in, so it wasn't a problem. But if you're running/walking gear doesn't have a convenient space for stowing a phone, it might mean the added inconvenience of purchasing and wearing a phone strap around your arm or waist.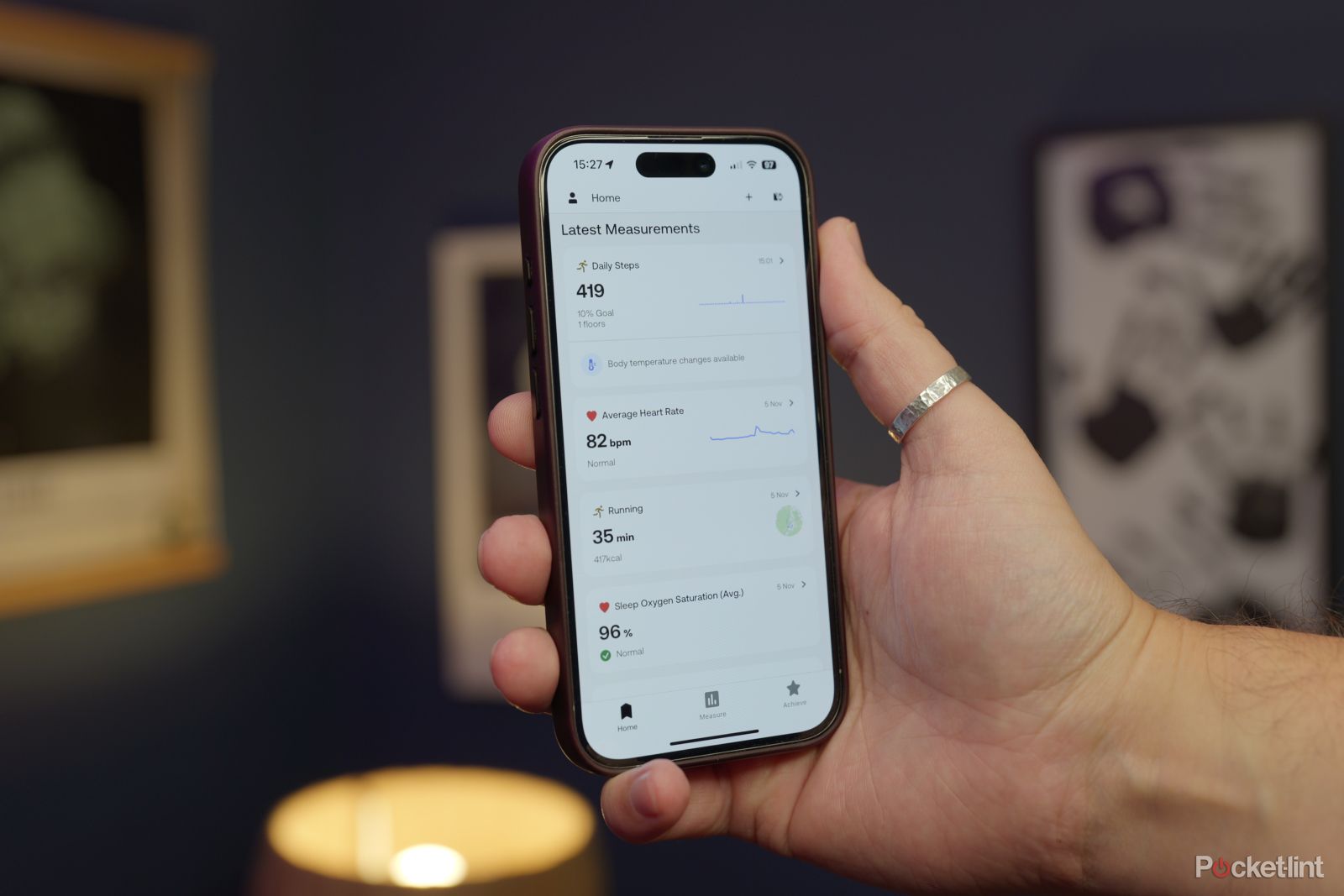 When you start an outdoor activity – whether it be running, walking or cycling – it automatically starts up the route tracking on your connected phone and keeps the Withings app running in the background. It then uses your phone's GPS location data combined with the motion, heart rate and temperature data on your watch to comprehensively analyse the workout.
For the most part, it's pretty accurate and gives you a good level of data once the run is complete.
I have only one real complaint about the activity-tracking element of the watch, and that's when it comes to wearing it for high-intensity workouts. In particular, when I wore it to track my kettlebell sessions – which a few other older smartwatches also struggled with – the Withings took a long time to get an accurate heart rate reading.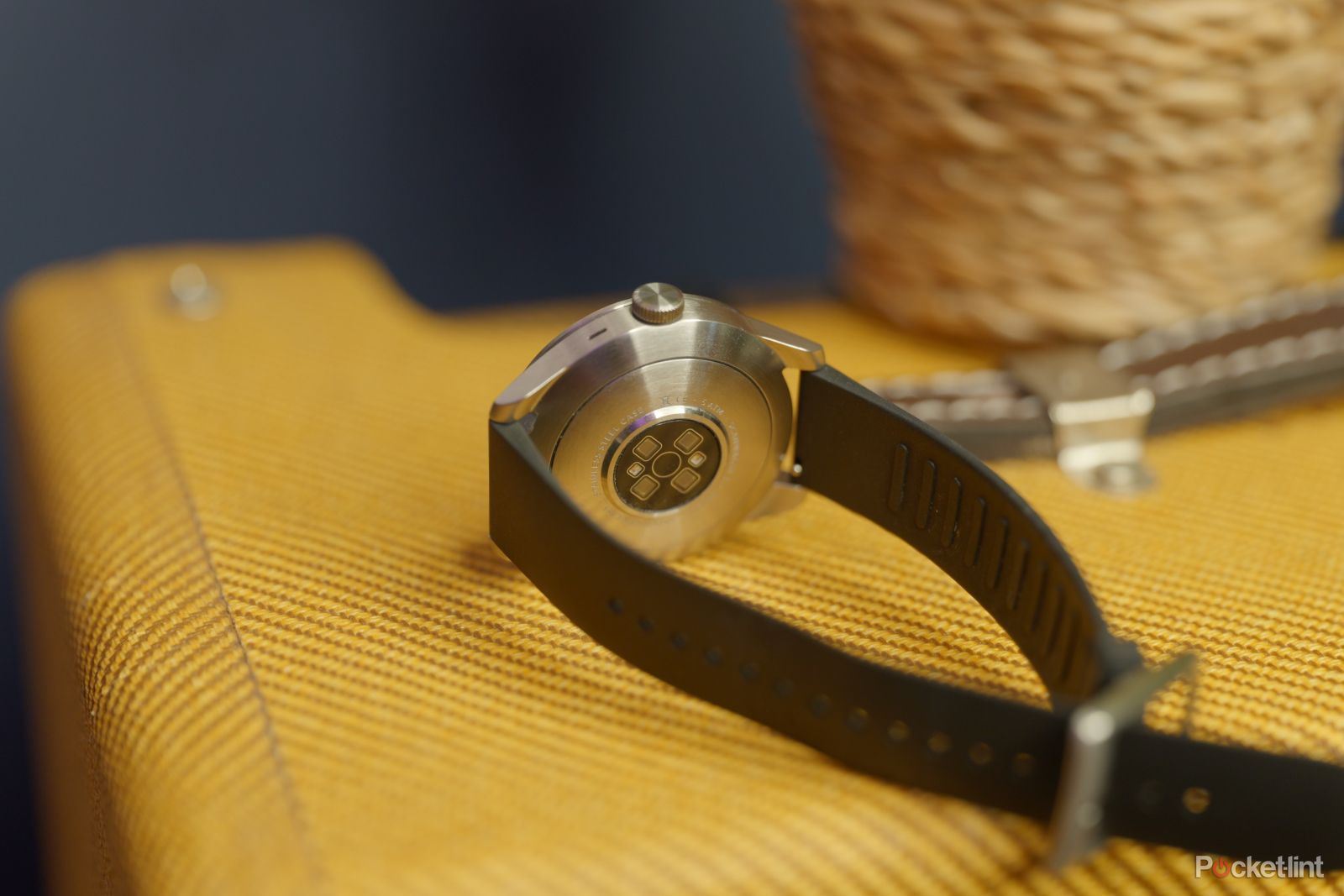 Looking at the data afterwards was a bit like looking at Galaxy Watch from 2-3 years ago or a 3-4 year-old Apple Watch. It took until 8-10 minutes into the workout to read an accurate, high reading and spent that first chunk of time showing a reading that's much more like what I'd expect to see when I'm just strolling gently on a flat path.
When you're working out for 30-35 minutes, and you want to get good data for recovery from other third-party apps like Gentler Streak – which uses workout intensity as a major indicator of your need for rest – having missing and completely inaccurate heart-rate data is non-negotiable. So, for me, it was the one thing that let it down.
Otherwise, the data was solid when it came to outdoor activities like walking, hiking, running, and even playing football. Heart-rate zones were exactly what I'd expect them to be, and having the body temperature feature was also useful because it can tell you when you've pushed yourself too hard based on how long you've spent with your body getting too hot.
The holistic health hub
With a lot of smartwatches and trackers, there's a real feeling that what you're wearing on your wrist is some kind of fitness and performance coach. The way data is displayed and prioritised, the closing of the rings, the running coaching plans, all of it geared towards making you a better athlete (of whatever level).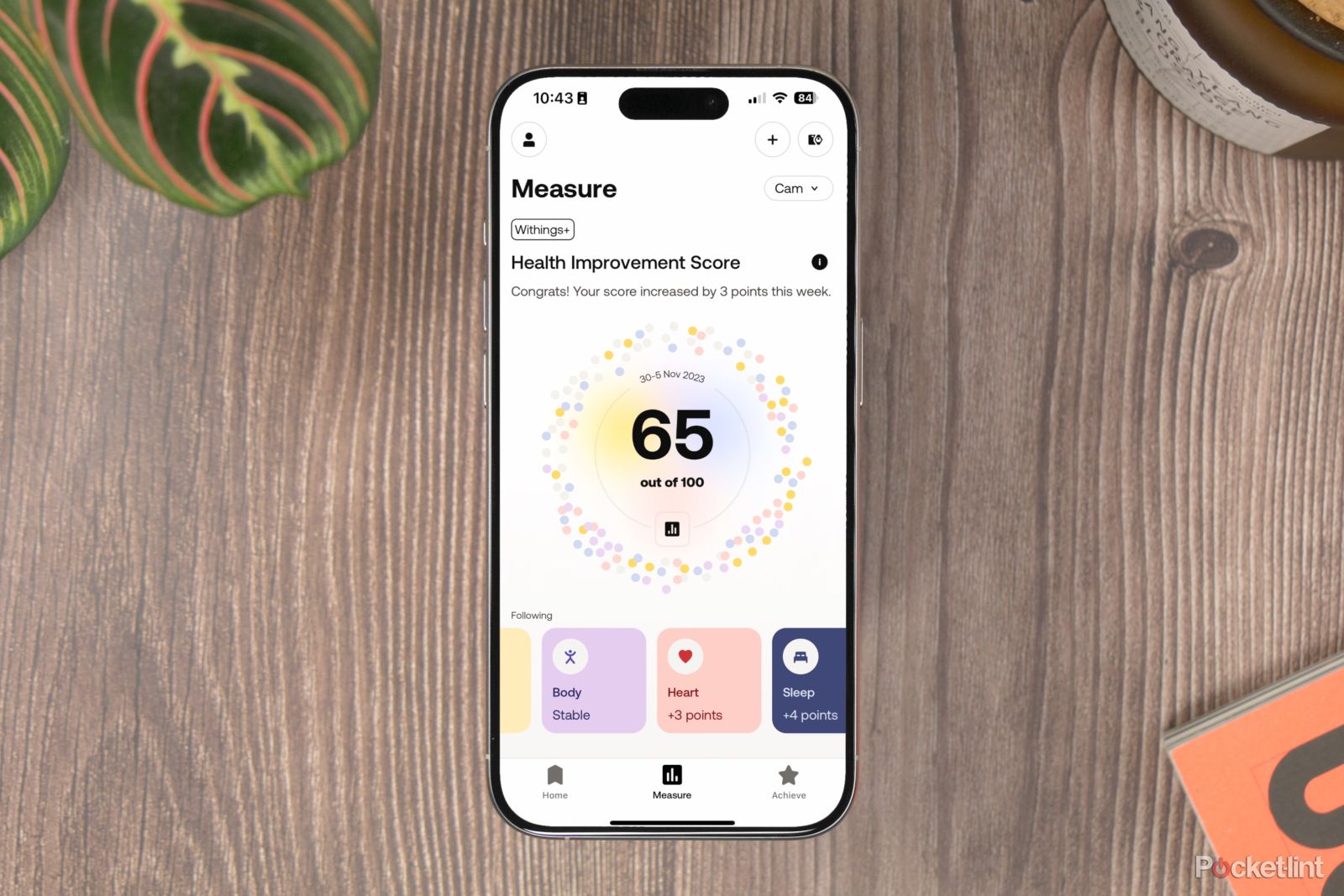 With the Withings – and because of the way the Withings Health Mate app is set up – it's more like you have an all-around health coach on your arm. Or maybe even a medical professional. Especially if you sign up for the Withings+ premium subscription.
To get the absolute most out of it – of course – means having more than just the Withings ScanWatch on your wrist. I've been testing the watch alongside the Body Scan smart scales system, and – combined – they give insight that's about as thorough as you can get without going to the doctor to get everything measured, poked, prodded and scanned.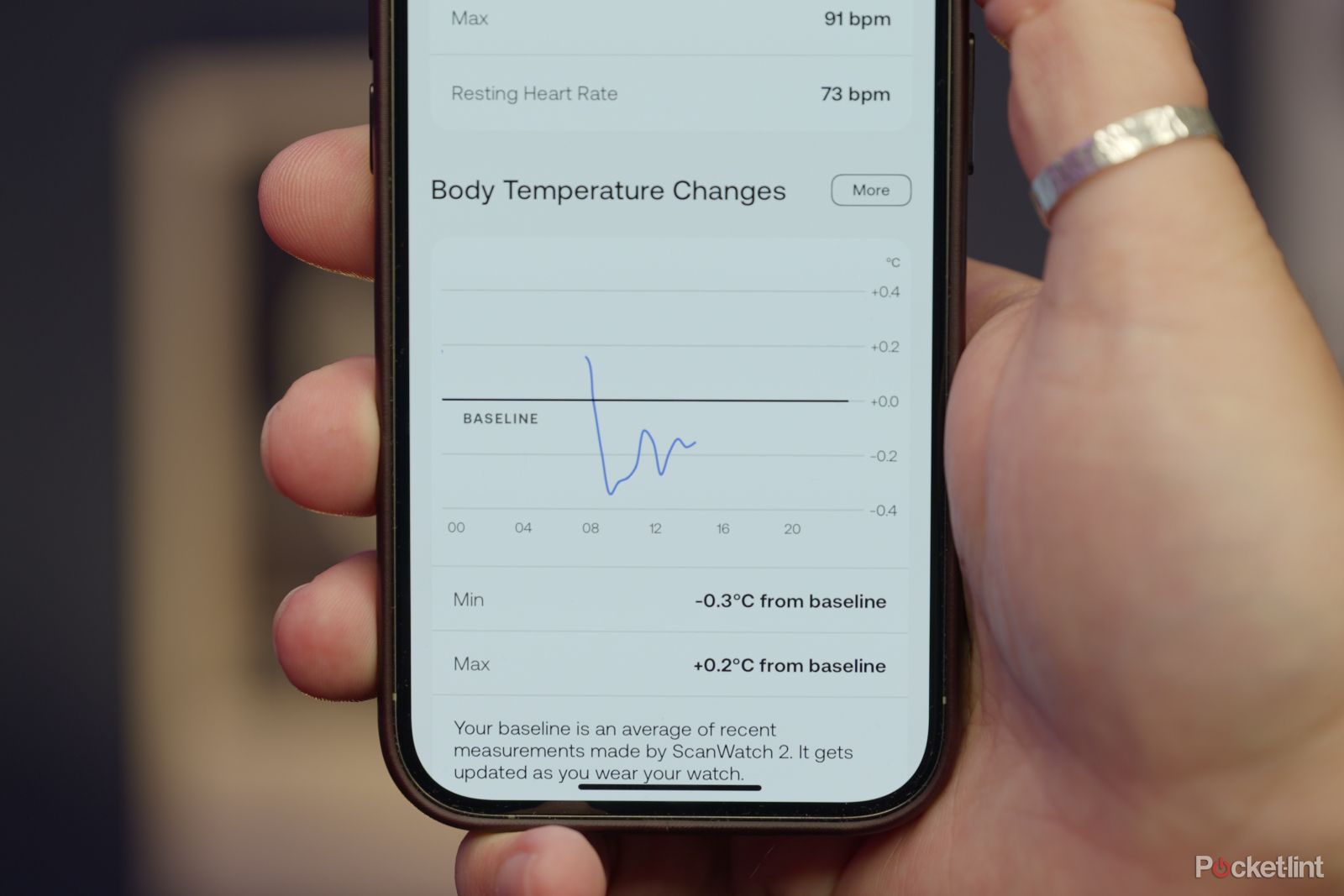 With the scales, you can have your weight automatically logged, as well as your body composition and see if your efforts to gain muscle and lose visceral fat (the fat around your organs) or body fat is working out.
The watch on its own does plenty, too. You can take ECG and Blood Oxygen Saturation measurements on it to keep an eye on your heart health. And – as part of the Withings+ subscription – get access to something called a 'Health Improvement Score'.
This score is a combination of four key, individual scores for different elements of your all-round health. These are your Activity Score, Body Score, Heart Score and Sleep Score.
Activity Score measures your daily activity, taking your average number of steps taken each day into account, along with how many active minutes you manage. Essentially, it's a score designed to help you move more and be more active.
Body Score is one that's only available and considered if you also have a set of smart scales. It measures your weight, your body composition, your nerve health and – if you have a dedicated thermometer accessory – your temperature.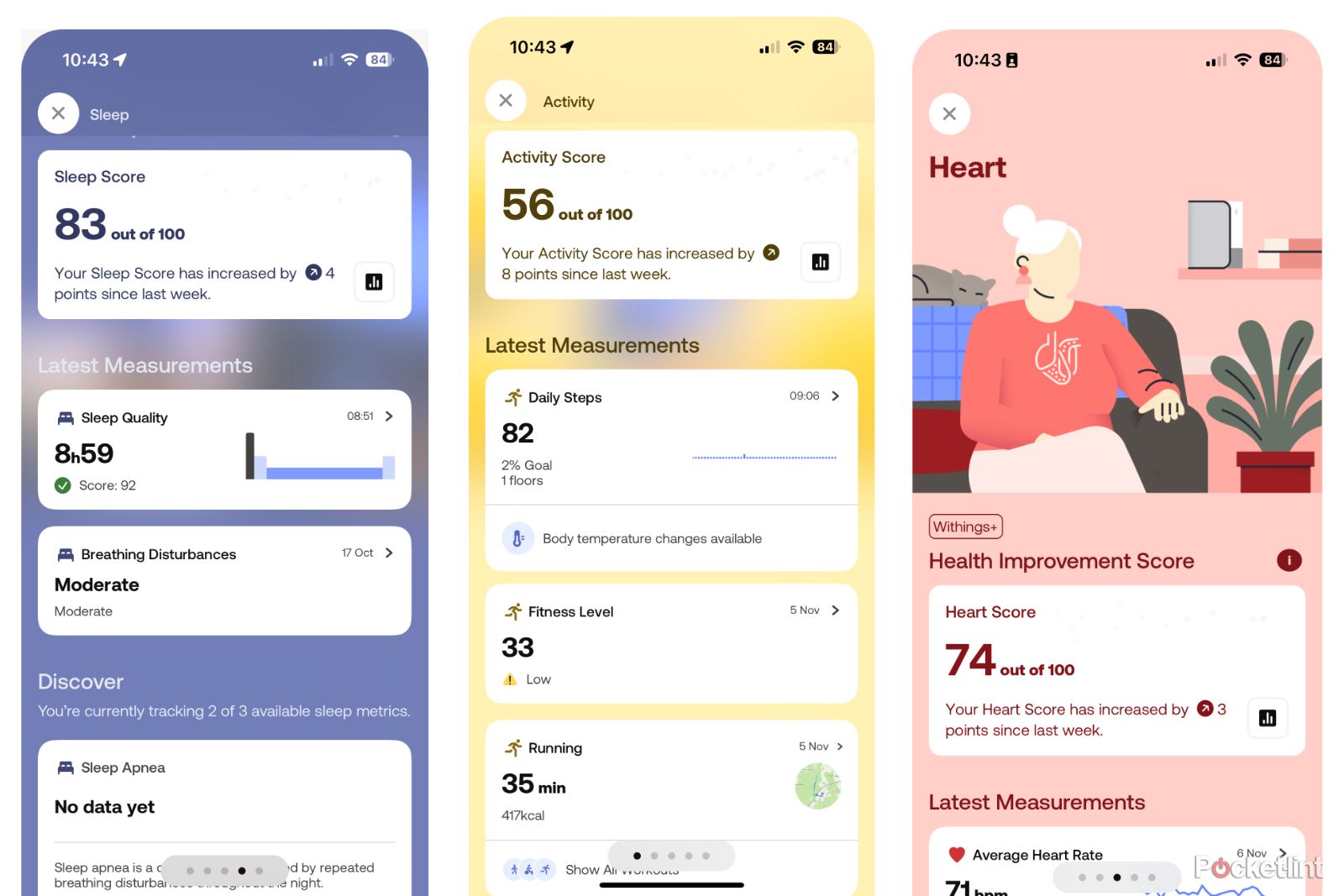 Heart Score is another that gets better with added accessories like the smart scales. However, with the watch it can take into account your average resting heart rate, your sleep oxygen saturation average and any data from ECGs that you perform on your wrist.
Sleep Score is what it sounds like. It analyses your average sleep patterns, how long you sleep for, whether you have enough time in the different sleep stages and even – if you have it enabled on the watch – any breathing disturbances in the night. I'm asthmatic and snore, so this was the one area of my sleep that wasn't absolutely top-notch.
All combined, you get about as comprehensive a view of your overall health as you'd hope for. And – for the most part – I've found these all-day tracking and averages to be accurate. I had a few nights where it struggled to measure my sleep properly, particularly if I randomly woke in the night for 30-40 minutes. In those, it would track maybe one chunk of sleep and not the other.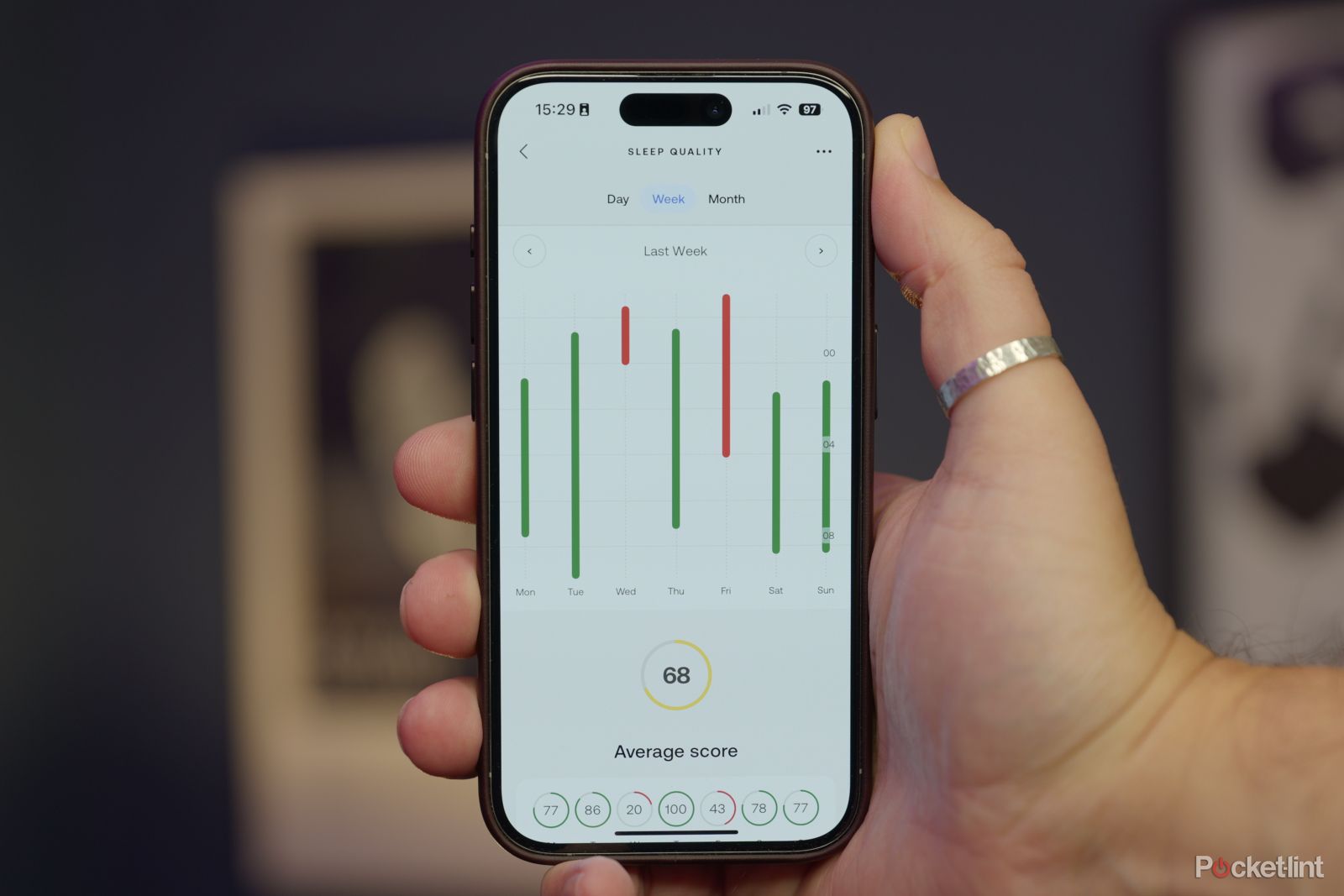 Still, of all the nights I've tested it over the past month (roughly), there were only 2-3 that I felt it got wrong. It's a solid all-day and all-night health-tracking device.
Long battery life
One other big draw of Scanwatch 2 is the battery life. On a full charge – according to Withings – it can last up to 30 days before needing to be charged again. With the settings, I'd enabled on the watch for more detailed sleep tracking – plus the fact I tracked an activity 4/5 times a week – meant my own battery life wasn't quite that high, but it wasn't far off. Not that I ever let it get close to completely flat.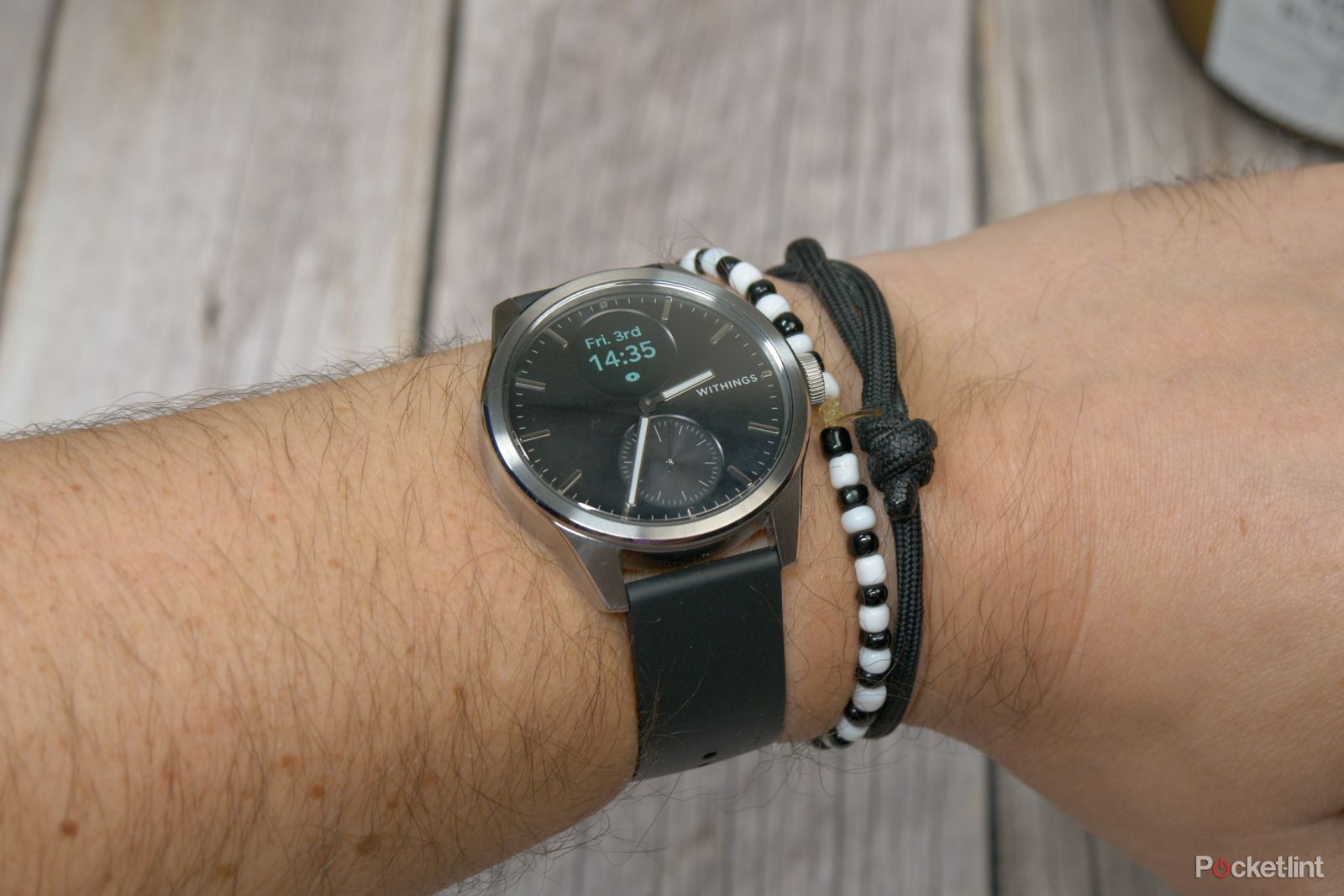 What I found – with notifications switched off and on really quiet days with no manual activity tracking – was it could go 24 hours without losing much battery at all. Sometimes as little as 1-2 per cent. Throw a workout in the mix, which increases battery usage understandably.
I found myself charging it somewhere around every three weeks, with the battery down to around 20-30 per cent. In theory, then, getting to 30 days between charges really isn't all that unrealistic. Charging is probably one of the few inconveniences of the watch. It has its own quite unusual cradle; it doesn't charge wirelessly, but at least the cradle does use a universal USB-C connector to gain power.
Verdict
For a lot of smartwatches, having fewer smart features would be a disadvantage, but for the ScanWatch 2, it's a major selling point. It's a watch that acts just like a watch but discretely tracks your vitals and helps you make sense of your health and fitness without singing and shouting really loudly about it.
It doesn't have mobile payments, message replies, offline music, a full-colour touchscreen or even its own onboard GPS for tracking routes, but what it does have is an infinite appeal for anyone avoiding the pinging, noisy smartwatch market. It's like having a tech detox without compromising or losing out on any health or fitness features.
For this reason alone, I've been finding it incredibly difficult to want to put my Apple Watch, Garmin, Huawei Watch, Samsung Galaxy or Pixel Watch back on my wrist. Once you've turned to this no-fuss, no-pestering, simple analogue watch system with thorough background health and fitness tracking, it's tough to go back to something with a big, bright, colourful display that hogs your attention and needs charging every day or two.