The guy who found the phone used an airline and a compressor to dry out the handset and the next morning after the device was plugged into the charger, it was working perfectly. And by showing on Facebook the image on the screensaver that showed the owner of the phone, the original owner of this iPhone had his device returned to him. So we know that the iPhone is capable of surviving some torture tests that might have been the end of other smartphones.
So that takes us to the latest amazing feat of endurance for the iPhone. On
Reddit
, an unlucky iPhone user said that his phone was accidentally dropped into a bonfire. He shared a photo of the device and the case looking pretty crispy following the accident. But the amazing part was what he was able to do with this phone before having to dispose of it.  He wrote, "My iPhone was a champ!!!! I was receiving calls minutes after this and it still worked. Also could not charge it and it kept going like the energizer bunny long enough until I could get it backed up and transferred to a new phone the next morning."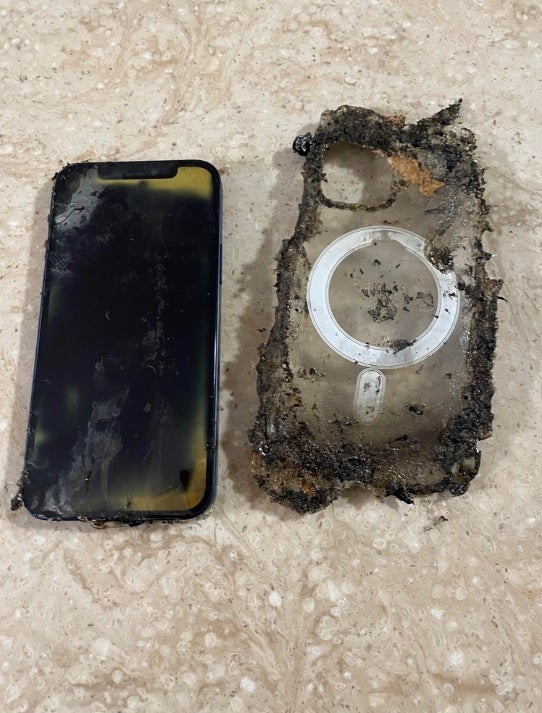 This iPhone fell into a bonfire but still received calls and was able to transfer data to a new phone the next morning
Despite getting roasted in searing hot temperatures, his phone was still receiving calls and was able to keep running until data was transferred to a new phone the next morning. That is absolutely incredible. Those iPhone 15 Pro series handsets that have been overheating haven't experienced anything close to the amount of heat that this unnamed iPhone model did. As one Reddit subscriber wrote in jest, "Call Apple and tell them this new overheating issue is getting out of hand."
While we don't know which iPhone model was dropped in the bonfire, we can eliminate the iPhone 15 series and the iPhone 14 Pro series because of the notch. With the MagSafe case, we know that this phone cannot be older than an iPhone 12 series unit. Not that it matters. At the end of the day, the charred phone was able to hold on long enough to transfer data to a new device and that's about all you can ask for in this scenario.